WDK Servo Hybrid Press Brake Machine for Sale, combination of electric servo and hydraulic drive systems for saving energy, low noise, higher efficiency.
WDK Hybrid press brake is the latest generation press brake machine: Independent AC-servo motors drive high efficiency bi-directional hydraulic pumps structure that provide extremely fast bending speed and ultra-high precision. It saves more than 80-85% electricity.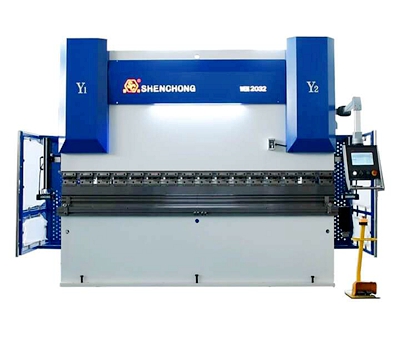 Hybrid Servo Press Brake For Sale
Bending capability: 40-1200 Tons
Bending length: 1320-10000MM
Intelligent Manufacturing Redefine Your Future!
You can also check with our mini press brake or tandem press brake for more CNC hydraulic press brake machine models.
Electric Servo Press Brake Advantages and differences:
Servo Hybrid Press Brake For Sale is Green, Eco-Friendly, 24hx7days, More than 6 axis CNC
- Energy Saving
When customer consider about choose a hybrid press brake, the first thing to look at is energy saving. Hybrid servo press brake is true green machines.
All the energy output by the oil pump is supplied to the left and right cylinders. The fluid is distributed on demand. No throttling loss. It can realize real energy saving.
The application of servo motor greatly reduces the energy consumption of the system in the working gap. Excellent energy saving effect. Compared with the same model, the energy saving rate reached 70%. For large tonnage, especially heavy-duty CNC bending machine, the advantages are more prominent.
- Cost Saving
There is no requirement for the friction between the left and right cylinders and the synchronism of Y1 and Y2. Each servo motor controls one oil pump and cylinder to ensure the maximum accuracy of the slider.
According to our practical testing, Shenchong servo press brake saves 85% energy in one hour, and 70-80% energy in three hours. This is a very big deal for customers to think about saving energy and operating costs.
- High Efficiency
With AC servo motors, Shenchong Servo Hybrid CNC Press Brake has super high speed. The fastest speed can up to 300mm/s, and machine won't vibrate. It is suitable for high stroke machine models.
- High Accuracy
Hydraulic pump motors are on only when the ram is moving which decreases the power consumption and ensures the stable hydraulic oil temperature in order to consistent bending accuracy. No failure rate. No proportional valve, machine will never vibrate.
In the actual test, the repeated positioning accuracy of the slider is ±0.01mm, and the highest accuracy can reach 0.005mm.
- Stable Temperature
There is almost no energy loss in the servo pump control system. So the whole process will not cause the oil temperature to rise significantly. When the ambient temperature is 38°C, the continuous working oil temperature does not exceed 50°C.
No leakage. Oil won't be hot even use 24hx7days, the hydraulic system is not easy to be fossilized and damaged. Higher stability. Improve the service life of seals and cylinders.
- Quiet (20 dB)
One thing that we love about the servo hybrid press brake WDK is its Eco-friendly. It keeps mute during standby mode and not moving (20 dB only), and running silently to help keep workspace quiet.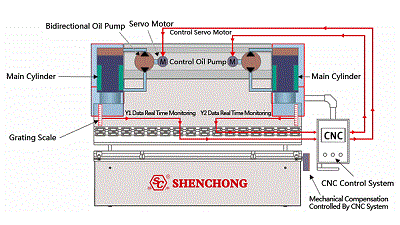 Electrical Servo Press Brake Main Parts:
- Advanced hydraulic control system
- Japan Mitsubishi servo moto
- Schneider electric components
- Standard MSD laser safety imported from Italy.
- ABBA linear guide and ball screw
- Germany ELGO magnetic grating ruler
- Multi-axis available. Satisfy all work pieces processing.
- More than 6 axis, it can be connected with ROBOT.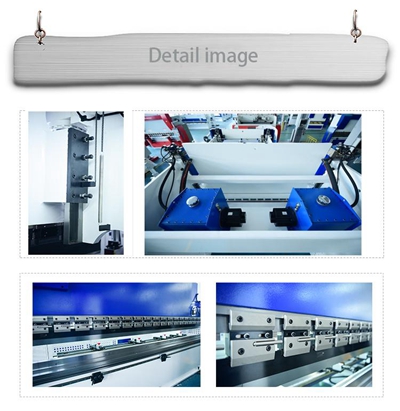 Hybrid Servo Electric Press Brake Machine Punch and Dies (accept customized tools)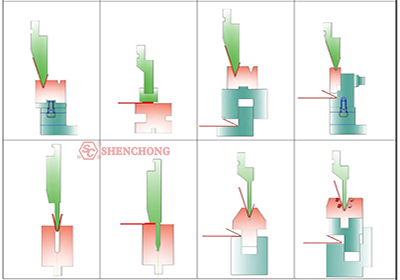 Clients and Shipment:
Top hybrid servo CNC press brake factory – Shenchong exported CNC bending brake machines to more than 70 counties globally over 20 years.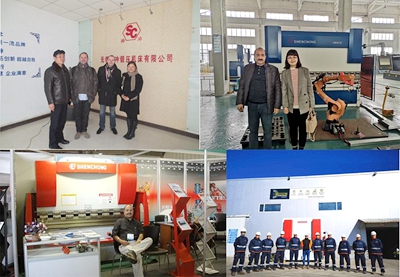 Our Service:
Shenchong is a hybrid servo press brake machine manufacturer with full exporting experiences in the worldwide:
1. Installation Services
Installation Services are available with all Our machines. We dispatch technician to customer's factory for installation and pre-operation of machines. (Customers only need to pay the airfare and hotel)
2. Training Service
we provide detailed machine user manuals and train videos, or customers can set a video call with our sales and engineers. Our technician is available to your factory and offer training of how to use our servo electric press brake machines. The buyer needs to afford plane tickets. As well, you may send your technician to our company to learn how to operate machines.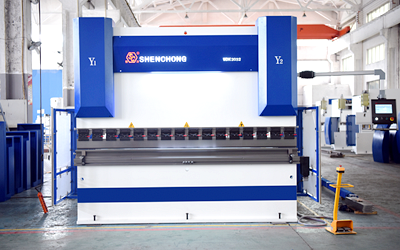 Electric Servo Press Brake Machine FAQ
Q: How to get an accurate hybrid servo press brake quotation from SHENCHONG?
A: Every customer can get servo hybrid press brake machine price from us. Please provide us your plate material type, max thickness and max width.
Q: Can you do OEM service for hybrid press brakes?
A: Yes, we can. your design is accepted, your own logo can be used on the servo hybrid press brake machine.
Q: What is the shipping cost from China to your country?
A: We can send hybrid press brake machine to your port or door address by sea or rail. please kindly tell us your nearest port. We have reliable shipping agent to insure the safe convenient and time delivery.
Q: Do you accept LC payment?
A: Yes, normally our payment is 30%+70% T/T, LC payment is also acceptable. Our CNC hybrid servo press brake price is affordable, contact with us today!