CNC Front Feeding Plate Guillotine Shear For Sale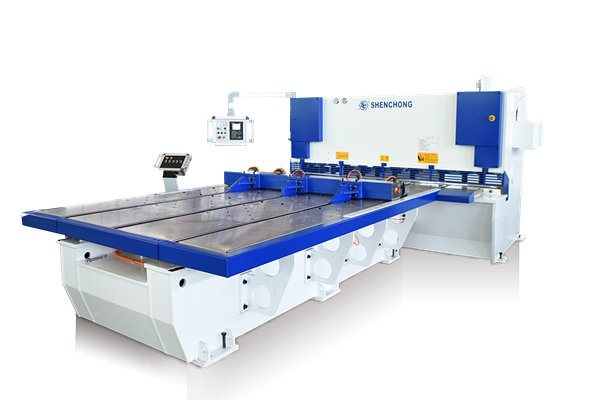 CNC front feeding plate shearing machine is the excellent shearing partner to over all increase the output from the shearing operation.
CNC front feeding sheet metal shear use the DAC 360/310 with system LCD display of Holland Delem company. It can memory 100 shear programs, each program can be made up of 25 steps. Also, the system can control the backgauge, shear angle, blade gap, and has automatic return function, which avoids the friction between the sheet and the blade.
Front-feeding shearing machine can automatically calculate the shear stroke according to the width of the sheet and save the shearing time to the maximum.
Intelligent Manufacturing Redefine Your Future!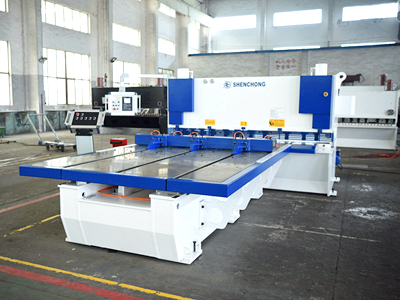 Sheet Metal Front Feeding Guillotine Shear For Sale:
Cutting Thickness: 4-40mm
Cutting Length: 2000-6000mm
We accept customization based on customers' shearing requirements. You can also check our CNC Shearing Machine and other Plate Shearing Machine models.
Front Feeding Guillotine Shear Advantages and differences: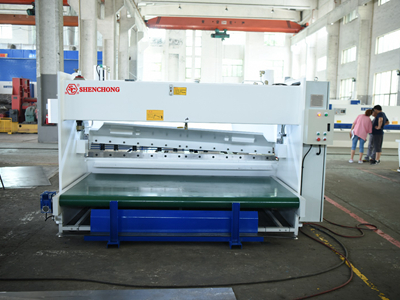 The whole frame of Shenchong front feeding plate shearing machine adopts steel structure and the internal stress is eliminated through the tempering treatment, with excellent rigidity and stability.
The blade carrier also adopts the steel structure, and under the action of the oil cylinder, it moves up and down along the roller to complete the shearing action.
CNC hydraulic guillotine front feeding shearing machine is a new generation with European technology. The use of European style machine modeling design, unique and pretty.
The front feeding device is steel structure, tempering process, which eliminates stress with good rigidity and stability. It adopts rolling ball over the table to reduce resistance during feeding and to avoid scratch on the surface of working table.
CNC Front Feeding Shearing Machine Applications:
Automation production lines require fast and easy operation.
For automation factory or final user who seek for easier operation, SHENCHONG CNC Front Feeding Plate Shearing Machine is the best choice.
Shipment:
As the experienced CNC plate shearing machine factory, Shenchong exported metal shearing machine to more than 70 countries globally over 20 years. We have different models of hydraulic CNC front feeding guillotine shear for sale, contact us today!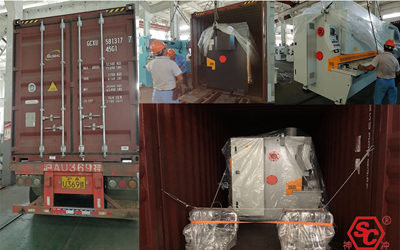 Front Feeding Guillotine Shear FAQ
Q: How to get front-feeding CNC hydraulic shearing machine price from SHENCHONG?
A: Every customer can get direct sheet metal plate guillotine shear quotation from us. Shenchong is one of the most famous China CNC plate front feeding guillotine shearing machine manufacturers, and we can offer you detailed technical proposal and price. Please provide us your plate material type, max thickness and max length.
Q: What's the shipping cost from China to your country?
A: We can send machine to your port or door address by sea or rail, and so please kindly tell us your nearest port. We have reliable shipping agent to insure the safe convenient and time delivery.
Q: Do you accept LC payment?
A: Yes, normally our payment is 30%+70% T/T, LC payment is also acceptable. Our plate front feeding shearing machine price is affordable, contact with us today!
Q: Do you have installation and training service?
A: Yes, Shenchong is a reliable sheet metal automatic hydraulic front feeding shearing machine supplier with full exporting experiences. Installation Services are available with all our machines. We dispatch technician to customer's factory for installation and pre-operation of machines. (Customers only need to pay the airfare and hotel)
We provide detailed machine user manuals and training videos, or customers can set a video call with our sales and engineers. Our technician is available to your factory and offer training of how to use our machines. The buyer needs to afford plane tickets. As well, you may send your technician to our company to learn how to operate machines.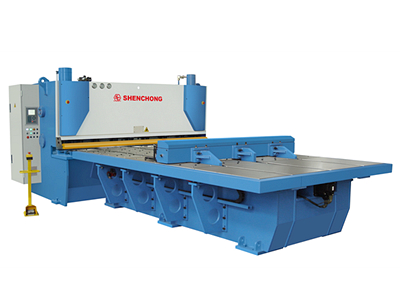 Q: Why choose Shenchong guillotine front feeding shearing machine for sale?
A: Shenchong as one of the top 3 front feeding shearing machine brands from China with full experience in exporting and excellent global market reputation. Shenchong plate cnc front feeding shearing machine for sale has ISO9001, CE and all other certifications as quality trust endorsement.
As leading company in guillotine shearing machine industry, Shenchong keeps innovating in CNC hydraulic front feeding guillotine shears details to improve cutting precision and linear. Has always been imitated, but never been surpassed.
Direct factory price and experienced oversea after sales team not only provides best price but also eliminate customers' concerns about any shearing machine problems.
Q: How Can I select front feeding plate shearing machine model?
A: Browse CNC hydraulic front feeding shear machine for sale now at Shenchong.com! Whether it is high-speed or high-precision, can be customized according to your requirements.
Give us your plate size, material, workpiece drawings, special requirements and other detailed information, we will choose the best shearing machine model for you and send you quotation.
ShenChong sell different types of hydraulic guillotine shearing machines, feel free to choose and buy! Welcome to send an email to info@shenchong.com or send a message to Whatsapp: +86-15951565113
Q: Can I visit your plate shearing machine factory?
A: Sure. Shenchong is looking forward to your arrival! Welcome to visit our factory and check the front feeding shearing machine quality on spot.
After you confirm the time of visit, please inform us in advance. Then we will pick you up at the airport or train station on time. Any question will be solved on site at first time.
In addition, if you want to visit our shearing machine factory online, you can contact our sales staff and they will arrange a video call with you.