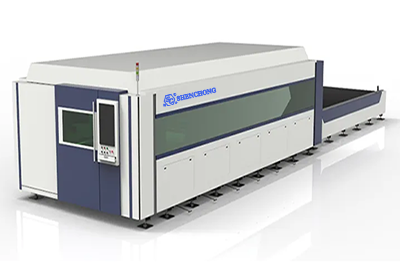 CNC control language Besides English, we have professional Russian, Spanish,German language, we can also support local agent to translate any language in need.
Laser power option
IPG: 1kw, 2kw, 3kw, 4kw, 6kw, 8kw, 10kw, 12kw, 15kw, 20kw, 40kW
Raycus: 1kw, 2kw, 3kw, 4kw, 6kw, 8kw, 10kw, 12kw,
Machine size: 3015, 4015, 4020, 6015, 6020. 6023, 6025, 6525, 8020, 8025, 9520, 12025, 13030…..
We customize as your metal sheet size.
Machine type: Single table, auto feeding shuttle table, Enclosed table, open table all available, Plate and tube cutting table, tube cutting machine available.
Intelligent Manufacturing Redefine Your Future!
Also welcome to check with our related products:
Automated Loading Unloading System for Laser Cutting Machine
Laser Cutting Production Lines

SHENCHONG Fiber Laser Cutting Machine Features
Hydraulically adjustable high and low double exchange table saves loading and unloading time.

High stability: imported fiber laser, compact structure, small size, fixed optical path, low energy consumption, stable cutting quality.

Full enclosure cover is safe the operator and good for environment protection

The depth of focus is long, the spot is small, the incision is small, the incision wall is straight, the incision is smooth, the appearance is beautiful, and there is no deformation.

The optical path is not constrained, and the optical fiber transmission loss is small, which can realize a larger processing range.

Low maintenance cost: no laser working gas; optical fiber transmission, no reflective lens; can save a lot of maintenance costs.

Efficient CNC control system. The software can realize timely processing of various graphics and characters, and is easy and convenient to use.

ROR Rack and Pinion from German with more stability function

The widened guide rail support surface further optimizes the rigidity of the bed.

The composite thermal insulation armor effectively protects the structural stability of the main beam of the bed in the ultra-high-power laser processing environment.

Energy saving and environmental protection, perfect smoke and dust removal system.
Fiber Laser Cutting Machine Industry Application:
SHENCHONG fiber laser cutting machine can cut a variety of metal sheets, mainly suitable for rapid cutting of stainless steel, carbon steel, manganese steel, galvanized sheet, various alloy sheets, rare metals and other materials.
Widely used in: kitchen appliances, sheet metal chassis, machine frame equipment, electrical equipment, lighting hardware, advertising signs, auto parts, display equipment, various metal products, sheet metal cutting and processing industries.
SHENCHONG Laser Cutting Machine Applicable materials:
Specially used for cutting 0.5mm-22mm carbon steel, 0.5mm-12mm stainless steel, galcanized steel, electrolytic zic - coated steel, silicon steel 0.5mm-10mm aluminium alloy, 0.5mm-8mm brass and red copper and other kinds of thin metal sheets (Material and thickness are related to laser type).
Laser Cutting Machine Main Parts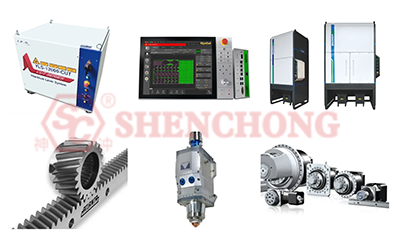 Machine Body And Details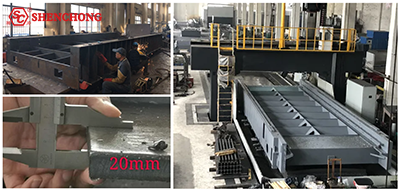 Laser cutting machine body (Plate welding with stiffener inside,not square pipe weld frame)
Square pipe welding frame table looks robust, but pipe always has distortion along with time goes. That's why top brand machine body all are plate welding design.
Machines over 6 meters are welded with 16mm and 20mm steel plates. We promise that our customers' machine tools will not deform in ten years, and the quality is the best advertisement.
Cutting Samples: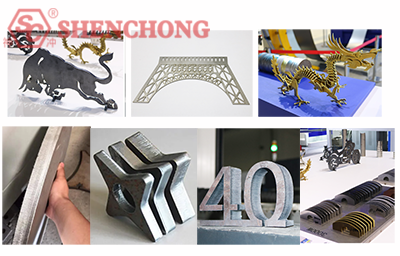 SHENCHONG Fiber Cutting Machine Quality Control:
As one of the top fiber cutting machine manufacturers in the global market, Shenchong has strict quality control process to ensure 0 mistake of the every producing steps.
1. Each screw is locked strictly according to the standard torque.
2. The installation of each gear is controlled within the precision range.
3. The precision of every two splicing racks is controlled within 0.01mm.
4. Every steel plate welding machine must carry out fine welding and meticulous grinding.
5. Every steel plate welding machine must be subjected to T6 heat treatment to eliminate stress.
6. Each steel plate welding machine after tempering is processed by the imported gantry machining center to ensure the straightness and flatness of the machine tool.
7. After installation and commissioning, the equipment must be calibrated and compensated by the laser interferometer produced by the American API company to ensure the walking accuracy and repeat positioning accuracy of the ex-factory equipment.
Q&A
Q: Why your fiber cutting machine price is higher? We have received mandy much cheaper offers from Jinan factories.
A: SHENCHONG laser cutting machine feature is robust table design like Europen brand machine with complete plate-welded structure, and heaviest in China.
You will check it out by real shipping weight!
We always produce high quality level machines that few factories can copy because we have experienced engineers which are limited source in this field.
So if you need to use laser cutting machine to do many cutting work, our machine is a better choice for you.
Q: Can you produce the machine faster?
A: Every customer hope to receive the machine in short days, but high quality level machine is not simply assemble parts together and deliver it to customer. Long-term machine stability depends on strict quality control, and inspection and testing work needs enough time. Shenchong fiber cutting machine with high quality need enough production time but we will try our best to produce and delivery the machine as quick as possible.
We mainly rely on old customers recommend our machines to others to expand business. The machine quality we produced are best advertisement for us.
Q: Why not offer 3 years warranty as Jinan factories?
A: Warranty service costs money if the supplier really do free service. We don't understand how can a company offer cheaper price and longer warranty at same time, unless the supplier just talk about it and play words game. International parts delivery, air ticket…. not cheap at all, we do spend much money on service after sales, we seriously do as we said.
Q: How to choose laser power?
A: We suggest to choose laser power according to your main cutting thickness, no need to choose a bigger power for a max cutting thickness less than 10% of total work. As far as we see, customers' business always grows after using laser cutting machine, and need second or third machine along with business expand.
You don't need to make a big investment from the start.
High quality cutting is different from max thickness cutting, you need to consider quality request too.