V Grooving Machine For Sale
Plate Thickness: up to 6mm
Plate Length: up to 6000mm
We accept customization based on your plate size. You are also welcome to check our Vertical V Groove Machine.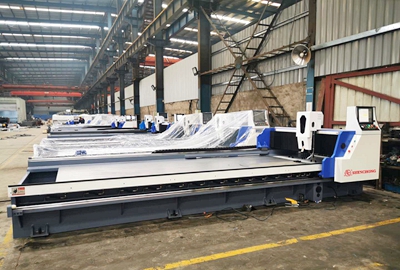 CNC Horizontal V Grooving Machine is a V-type slotted device designed for metal sheets.
- CNC horizontal groove machine tool adopts high strength steel plate welding. And the welding stress is eliminated by heat treatment insulation tempering. High strength and good stability.
- Machining work pieces are fed from the front end. Hydraulic clamping; hydraulic pressure plate. High degree of automation and easy to operate.
- Independently adjustable working surface.
- Servo-driven tool holder: large moving torque, fast speed of addition and subtraction, precise positioning and high efficiency.
- The spindle adopts gear and rack drive: strong rigidity, small resistance, greatly improve energy efficiency and save energy.
Why Choose Shenchong Horizontal CNC Slotting Machine?
In ordinary bending processing, a large arc is left at the bend, and the thicker the processed plate, the larger the arc. The existence of large arc angle affects the overall beauty of the product. In order to solve this problem, our company launched a series of CNC sheet metal V-Groove planer products with a new design concept. This series of products have high processing accuracy, easy operation, stable and reliable operation. It is used for V-groove processing on the stainless steel, iron plate, copper and other plates, especially suitable for V-grooving processing before sheet metal bending.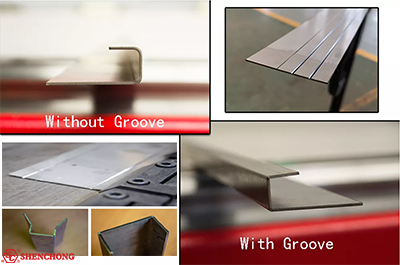 CNC Slotting Machine / Plate Groove V Machine Advantages and differences:
- Low requirements for operators.

- When v-grooving, the users don't need to move the sheet metal. And it will not scratch the surface of the plate.
- After grooving, the garbage is easy to clean up.
- The price of horizontal V groove machine is lower than that of vertical type.
- Horizontal v-grooving machine is a good choice for decoration manufacturers.
- High stability, strong rigidity and also convenient in usage.
- The CNC control system has several parameter to choose, big in storage and easy in operation.
- CNC control system has 5 axis is AC servo motor drive, high in control precision.
X1 axis → control beam movement
X2 axis → double drive auxiliary beam movement
Y1 axis → control the left and right movement of the knife beam
Y2 axis → control the movement of the oil cylinder
Z axis → control the upper and lower movement of knife beam
- Has 3-10 cutting structure, greatly improve the cutting working efficiency, and also can promote the cutting quality.
- Use ball-screw and line guide, gear and rack transmission to enhance the machine durability and precision. The repeat positioning accuracy is ±0.01MM.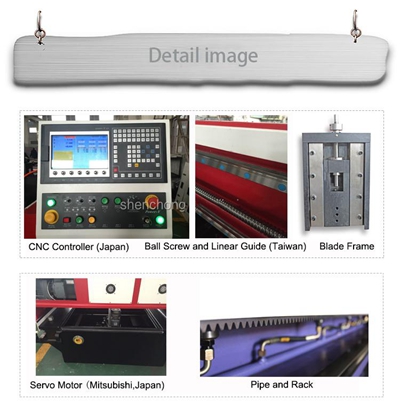 CNC Horizontal V Grooving Machine Components:
- CNC system: Japan
- Hydraulic system: Taiwan famous brand
- Frequency converter: Mitsubishi
- Servo motor: Mitsubishi
- Seal ring: VALQUA, Japan
- Motor: SEW
- Air switch: Schneider
- Contactor: Schneider
- Breaker and button: Schneider
- Relay: Schneider
- Blades: KORLOY, Korea
- Linear guide: HINWIN, Taiwan
- Wire: IGUS, Germany
Plate V-Grooving Machine Applications:
- Use CNC V Grooving Machine to line and planer v-shaped groove on the position where the metal plate needs to be bent.
- After grooving, you can use the general mold to bending the special closed shape material on the common bending machines.
- The iron plate after grooving is easier to bend. And then, the quality and shape of press brake bending will be better.
- Horizontal groove machine is suitable for slotting large sheet metal with high requirements.
CNC V Groove Cutting Machine Shipment:
As the experienced plate V groove machine factory, Shenchong exported sheet metal V grooving machine to more than 70 countries globally over 20 years. We have different models of plate V groove machine for sale, contact us today!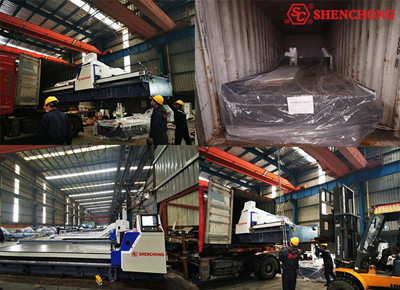 FAQ
Q: How to get V grooving machine price from SHENCHONG?
A: Every customer can get direct sheet metal plate groove v machine price from us. Shenchong is one of the most famous plate grooving V machine manufacturers, and we can offer you detailed technical proposal and price. Please provide us your plate material type, max thickness and max length.
Q: What's the shipping cost from China to your country?
A: We can send machine to your port or door address by sea or rail, and so please kindly tell us your nearest port. We have reliable shipping agent to insure the safe convenient and time delivery.
Q: Do you accept LC payment?
A: Yes, normally our payment is 30%+70% T/T, LC payment is also acceptable. Our CNC grooving V machine price is affordable, contact with us today!
Q: Do you have installation and training service?
A: Yes, Shenchong is a reliable sheet metal CNC v groove machine supplier with full exporting experiences. Installation Services are available with all our machines. We dispatch technician to customer's factory for installation and pre-operation of machines. (Customers only need to pay the airfare and hotel)
We provide detailed machine user manuals and training videos, or customers can set a video call with our sales and engineers. Our technician is available to your factory and offer training of how to use our machines. The buyer needs to afford plane tickets. As well, you may send your technician to our company to learn how to operate machines.