Mechanical Symmetry 3 Roll Plate Bending Machine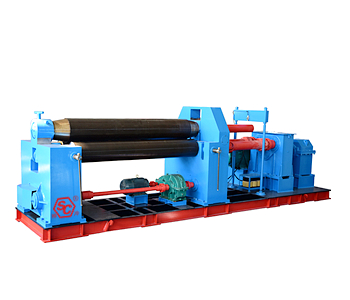 SW11 Mechanical Symmetry Three-roller Bending Roll is an efficient, easy to operate and intelligent sheet metal rolling equipment. Mechanical symmetry metal roller has the advantages of simple structure, convenient operation and movable operation platform.
MECHANICAL SYMMETRY
- The upper roller of this 3 roll plate bending machine makes vertical lifting movement at symmetry place of two bottom rollers center, through hydraulic oil in the hydraulic cylinder acting on piston pole. It's hydraulic transmission.
- Two bottom rollers make rotary movement. Motor joins bottom roller through gear reducer and universal chain coupler, providing torque for rolling plate.
- Under the two bottom rollers, there are multiple sets of support rollers, which can improve the rigidity of the bottom rollers.
Intelligent Manufacturing Redefine Your Future!
SW11 Mechanical Symmetry 3 Roll Plate Rolling Machine Advantages and Differences:
- Simple rolling machine: simple structure, convenience operation, movable operation table.
- Keep standard height of lower-roller, convenience to feeding and operating.
- Machine frame integral quenching eliminates stress, never deformation.
- Best cost-effective choice for architecture industry, vehicle maintenance industry and machinery factories.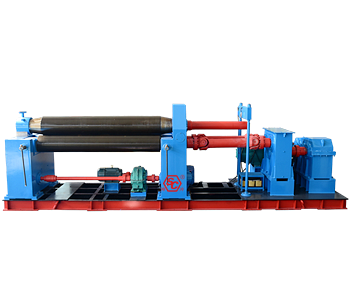 Symmetry Three-roller Bending Roll Components:
- Working roll: upper roll, lower roll with related accessories
- Frame and related accessories
- Machine base
- Motor and Reducer
- Discharge device
- Electrical parts
- Hydraulic components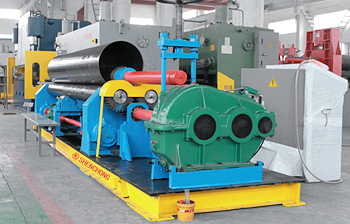 Applications:
- SW11 Mechanical Symmetry 3-roller Bending Roll is suitable for metal components machining, needs other assistant equipment to pre-bend plate end.
- Most cost effective choice if you need to bend plate < 25x2500mm.
- Clients bought cheap price SW11 rolling machines are from architecture industry, vehicle maintenance industry, machinery factories, etc…
Other related machines:
4 Roller Roll Bending Machine For Sale
3 Roller Roll Bending Machine For Sale