3 Roll Plate Bending Machine For Sale
3 Roller plate bending roll has the most common design in the plate rolling machine market, with a fixed top roll and two side rolls swing up for sheet metal pre-bending and rolling.
3 Roller Plate Bending Roll is available in five types: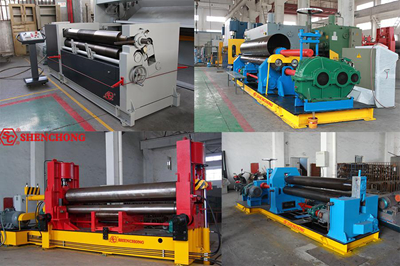 - Symmetry Three-roller Bending Roll
- Level Down Three-roller Bending Roll
- Asymmetry 3- Roller Bending Roll
- Upper Roller Universal Three-roller Bending Roll
- 3-Roller Bending Roll for Shipbuilding
Intelligent Manufacturing Redefine Your Future!
3 Roll Plate Roll Bending Machine Advantages and difference:
- Costing less than a four roll bending machine
- The ideal choice for limited production cost.
Rolling Capability: 4mm-100mm
Rolling Length: up to 6000mm or customization
3 Roller Bending Process
- Feeding: operation roller lift, make the bus line and lower roller lower the bus distance is slightly larger than plate thickness, then the horizontal input steel plate, make the end of the steel plate and the work roller side of the baffle all line contact for the positive.
- Pre-bending one side: moving roller, make the rolled distance B according to the need to determine, according to the work piece curvature roll down on manipulation, manipulation of point of roller rotation of bending of sheet metal ends, on the roller and the lower left roller clamping plate length is 1.5 ~ 2.5 times of thickness; The pressure of oil cylinder is different from plate thickness to 5 ~ 20mpa.
- Pre-bending another side: change the roll position and pre-bend the other end.
- Final bending: the final bend can be divided into several times, generally for 4 ~ 5 times, the roll-down of the roller is in the middle of the plate, and the roll rotation is manipulated to make the rotation direction and the plate feed in the same direction.
3 Roll Plate Bending Machine Applications:
- Three-roller plate rolling machine is equipment for rolling metal plates into arc-shaped or circular cylinder shaped workpieces, and can roll cone-shaped work pieces within a certain range with the aid of auxiliary equipment.
- Its rolled products are widely used in shipbuilding, boiler, petroleum, chemical industry, metallurgy, hydropower and machinery manufacturing industries.
- 3 Roller Three roll plate bending roll machine is suitable to bend steel or metal roll from 6mm to 100mm thickness.
Different Types of Three Roller Bending Machines:
Upper Roller Universal 3 Roller Bending Roll For Sale
Features:
- With NC controller
- Upper roller can move left and right, lift up and down
- Lower rollers are drive rollers, fixed cannot move, rotate to provide power
- With hydraulic station
Advantages:
- Upper roller universal 3 roll bending machine has pre-bending function.
- Good choice for model above 16x2000, usually buy 40x5000mm to roll wind tower, 20-25x4000mm to make oil pipeline (Specific models according to customers' plate rolling requirements).
- Lower price compared with 4 roll plate bending machine, but it also can produce cone by add cone device.
Symmetry 3 Roller Bending Roll For Sale
Features:
- Mechanical 3 rolls plate bending machine
- Simple structure: upper roller is driven roller can lift up and down, and down rollers are fixed driving rollers.
Advantage:
- Cheaper price than other types of 3 roll plate rolling machine
Limitations:
- Not suitable for model larger than 25x2500mm
- Without pre-bending function
Level Down Three-roller Bending Roll For Sale
Features:
- Level Down three rolls roll bending machine is also mechanical rolling machine.
- Lower rollers can move left and right or only one side move, which can adjust to bend cones.
Advantages:
- Can bend cones.
- It has pre-bend function by adjust the center distance of lower rollers.
- High precision and affordable price for small model.
Limitation:
- If customers want to buy large model of level down three roller rolling machine, it need to be change as hydraulic type, which could be more expensive.
Asymmetry 3- Roller Bending Roll For Sale
Features:
- Mechanical type
- Lower roller is driving roll, upper and side rollers are driven roll
Advantages:
- Customer can adjust the side roll to pre-bend workpieces.
- High precision
- It can bend cones by adding cone device.
Limitation:
- Only suitable for small plate rolling machine models.
Three rollers Plate Bending Machine Shipment:
As the experienced rolls plate bending machine factory, Shenchong exported 3 rolls plate bending machine to more than 70 countries globally over 20 years. We have different models of 3 rolls sheet metal bending machine for sale, contact us today!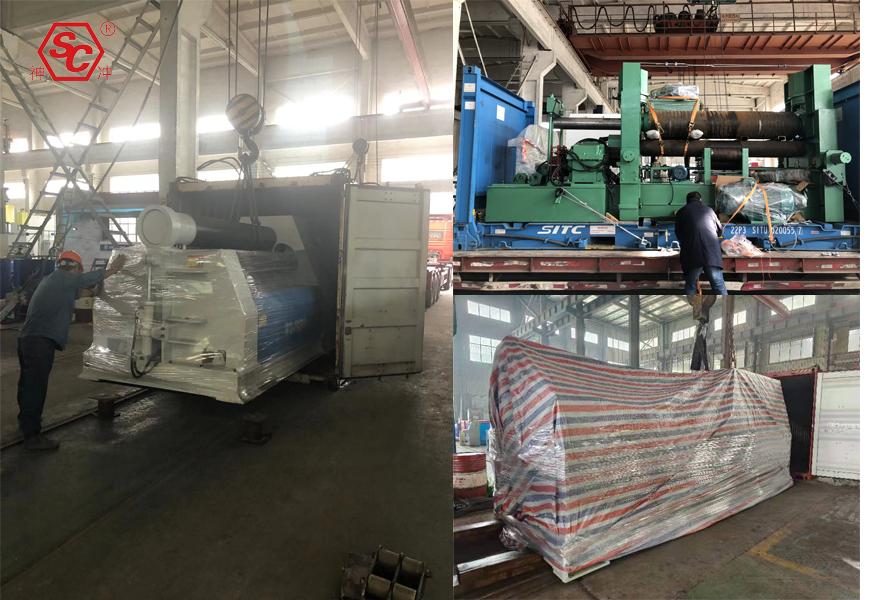 FAQ
Q: How to get a 3-roll plate rolling machine quotation from SHENCHONG?
A: Every customer can get direct sheet metal plate 3 rollers rolling machine price from us. Shenchong is one of the largest plate bending rolls suppliers, and we can offer you detailed technical proposal and price. Please provide us your plate material type, max thickness and max width. Also, it will be helpful if you can send us your workpiece drawings or related rolling requirements.
Q: What's the shipping cost from China to your country?
A: We can send machine to your port or door address by sea or rail, and so please kindly tell us your nearest port. We have reliable shipping agent to insure the safe convenient and time delivery.
Q: Do you accept LC payment?
A: Yes, normally our payment is 30%+70% T/T, LC payment is also acceptable. Our plate bending roll machine price is affordable, contact with us today!
Q: Do you have installation and training service?
A: Yes, Shenchong is a reliable China plate roll bending manufacturers with full exporting experiences. Installation Services are available with all our machines. We dispatch technician to customer's factory for installation and pre-operation of machines. (Customers only need to pay the airfare and hotel)
We provide detailed machine user manuals and train videos, or customers can set a video call with our sales and engineers. Our technician is available to your factory and offer training of how to use our machines. The buyer needs to afford plane tickets. As well, you may send your technician to our company to learn how to operate machines.