Recently, the list of "2023 National May Labor Award and Proposed Commendation Objects for National Worker Pioneer" was announced. A total of 13 units in Jiangsu have won the National May Day Labor Award. 52 individuals were awarded the National May Day Labor Medal. 49 teams and departments have been awarded the National Worker Pioneer Award. Among them, the technical innovation comprehensive team of Wuxi Shenchong Forging Machine Co., Ltd. is awarded the "National Worker Pioneer".
Wuxi Shenchong Forging Machine Tool Co., Ltd. Technical Innovation Comprehensive Team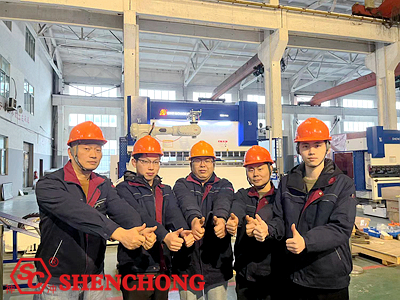 In the Technical Innovation Comprehensive Team, there are currently 5 employees, with an average age of less than 35 years old. Faced with the new situation and tasks, all employees of this team are striving to adapt to the overall requirements of high-quality development in the new era and better promote the construction of the industrial worker team in the new era. They are raising their fighting spirit, preparing to take action, improving the quality and efficiency of the enterprise, becoming better and stronger, developing harmoniously, and gathering wisdom and strength.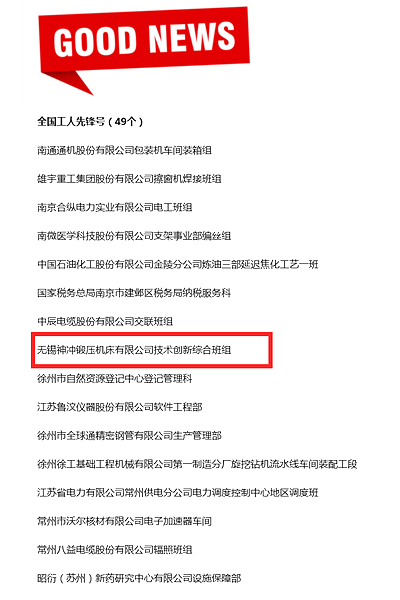 National Worker Pioneer
"Pioneer Worker" is an honorary title formulated and issued by the All-China Federation of Trade Unions with the activity content of "creating first-class work, first-class service, first-class performance, first-class team".
The 'Worker Pioneer' is not only an affirmation of our past work, but also a spur for us to continue striving. In future work, Wuxi Shenchong will continue to work hard, adhere to its duties, unite and strive, never forget its original intention, and will polish the brand of "Worker Pioneer" even brighter!